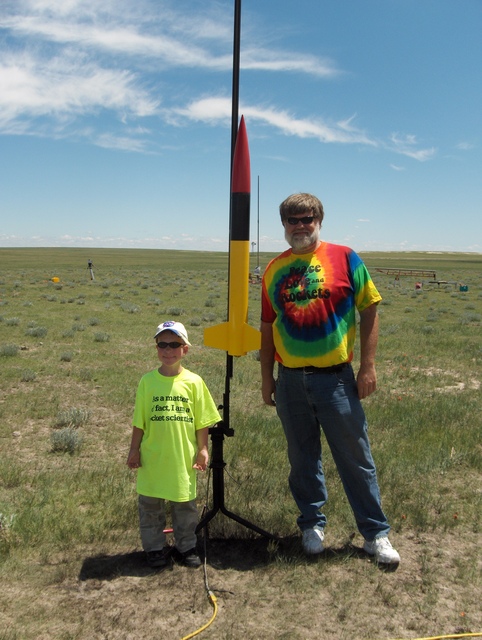 Garbee Rockets
Building and launching model rockets is one of our favorite hobby activities right now. While everyone in the family gets into the act in one way or another, Bdale and Robert are the most serious and so most Garbee rocket projects end up being father and son affairs...
Bdale is NAR Sr member 87103 and Tripoli member 12201, and holds a level 3 high power certification. Robert is NAR Sr member 87104 and Tripoli member 14036, and also holds a level 3 high power certification. Robdert was one of the first kids to pass the Tripoli Mentoring Program exam, and flew a lot of high power including a fair number of research motors in mentored projects before turning 18...
Photos
See some of our launch photos in the Garbee Gallery, and on Bdale's Flickr Photostream.
Clubs
We have family memberships in (and regularly enjoy flying our models with!) local clubs Tripoli Colorado, SCORE, and NCR.
We have also flown with ARS, COSROCS, Kloudbusters, Metra, NRVR, NZRA, and QRS.
Vendors
Electronics
Lots of people make electronics for use in hobby rockets. This is a brief list of only the things we've actually used ourselves.
First off, Bdale and friends develop fully open hardware and software designs for rocketry avionics, under the name Altus Metrum.
We also fly commercial altimeters in some projects. The cheapest off the shelf altimeter we've used and often recommend to beginners is the Missile Works RRC2-mini. At about $80, it gets the job done for simple barometric control of dual deployment. Note that while early versions had a firmware bug that we believe is at least partially responsible for Bdale's loss of his first L3 project, recent versions seem fine. For another $20, the PerfectFlite miniAlt/WD adds the ability to records the barometric flight altitude profile. Both of Bdale's L3 certs flew with one each of these two commercial altimeters, and we often use the MAWD as a backup for our TeleMetrum units during test flights.
The BeeLine TX boards from Big Red Bee are radio tracking transmitters that just work. They require an amateur radio license, but we think anyone flying big rockets can and should get one of those anyway!
Books
While a lot of great information is available on the web, there are some paper books that we've found very helpful at various stages.
Handbook of Model Rocketry, 7th Edition (NAR Official Handbook) may be the best first book on model rocketry. While the focus is on small rockets, the basic principles of static stability and construction covered here are important at all levels of the hobby.

Modern High-Power Rocketry 2 covers a lot of material, and is a great resource if you're starting to think about a high power certification and don't have a club nearby, or just like to read about how other people have done things and why.

Topics in Advanced Model Rocketry is definitely not for everyone, as it's heavy on math and isn't a "how to" book at all! But, if you really want to understand what's going on with higher performance models and/or inside the simulation software we use when designing rockets, the material here will take you a long way!